The sun isn't up yet, but we are awake and loading our bodies with protein-rich oatmeal in anticipation of a great day on the slopes. No, it's not winter. We are on vacation at Mt. Hood, Oregon preparing for a week of skiing on a glacier that defies the July summer sun. We are a devoted ski family, skiing three to four days a week at our beloved local mountain, White Pass, in the Cascade Range of Washington State. We missed out on the last month of ski season this year just as the pandemic hit, but are making up for it with incredible early morning skiing at Mt. Hood's Timberline resort.
Mt. Hood has multiple ski resorts and attracts not only the families that ski, but the professional ski racers and freeskiers who train all year long. What a gift to continue training in North America instead of heading South to Chile or New Zealand when our snow melts. On that note, we are at Mt. Hood because we have two fierce skiers, age 11 and 9, who are hitting jumps and spins and even backflips under the careful coaching of some pretty awesome rippers at Party Beach Ski Camp. While our family loves the thrill of freeskiing, we have other friends who come to Mt. Hood for their abundance of downhill ski race camps.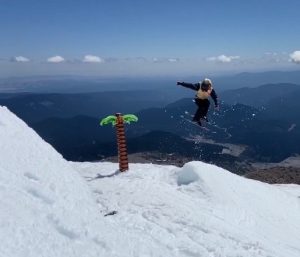 While most of the ski camps cater to kiddos, Party Beach Ski Camp has started an adult camp this summer, one my husband is eyeing for next year. Why not learn to do more grabs, spins and perfect your backflip on skis at the age of 42?
We drove down with our RV from Washington state and loved staying at the Mt. Hood Village RV Resort. They have full and partial hook-up sites as well as tiny homes to rent. There is also plenty of lodging at Government Camp which is closer to the summer ski base.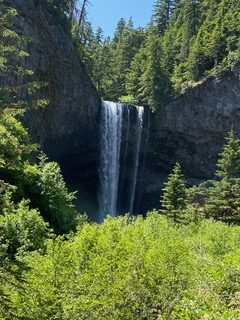 While our big kids trained with the pros, we took our youngest child on several hikes, the most tremendous one was Tamanawas Falls. Her mouth dropped open after a few miles hiking through the woods when the falls became visible, roaring more than 100 feet down in to the basin below. We also loved racing down the Alpine Slide at the Mt. Hood Adventure Park at Ski Bowl.
Mt. Hood is our new Fourth of July family vacation tradition. Skiing. Hiking. Mountain biking. Alpine Slide. We didn't see any fireworks this year, but the snow was fabulous and the family time was irreplaceable. If you can't tear yourself away from your own Fourth of July family tradition, don't worry, Mt. Hood has skiing year round.
For further details visit Timberlinelodge.com