On the south side of majestic Lake Tahoe stand skyscraper casinos dwarfed by the surrounding mountains and lake vistas. South Lake Tahoe seems to be asking you to choose your adventure. Nature? Action? It's all available here on the California – Nevada line.
4pm // Check-in to the Basecamp Hotel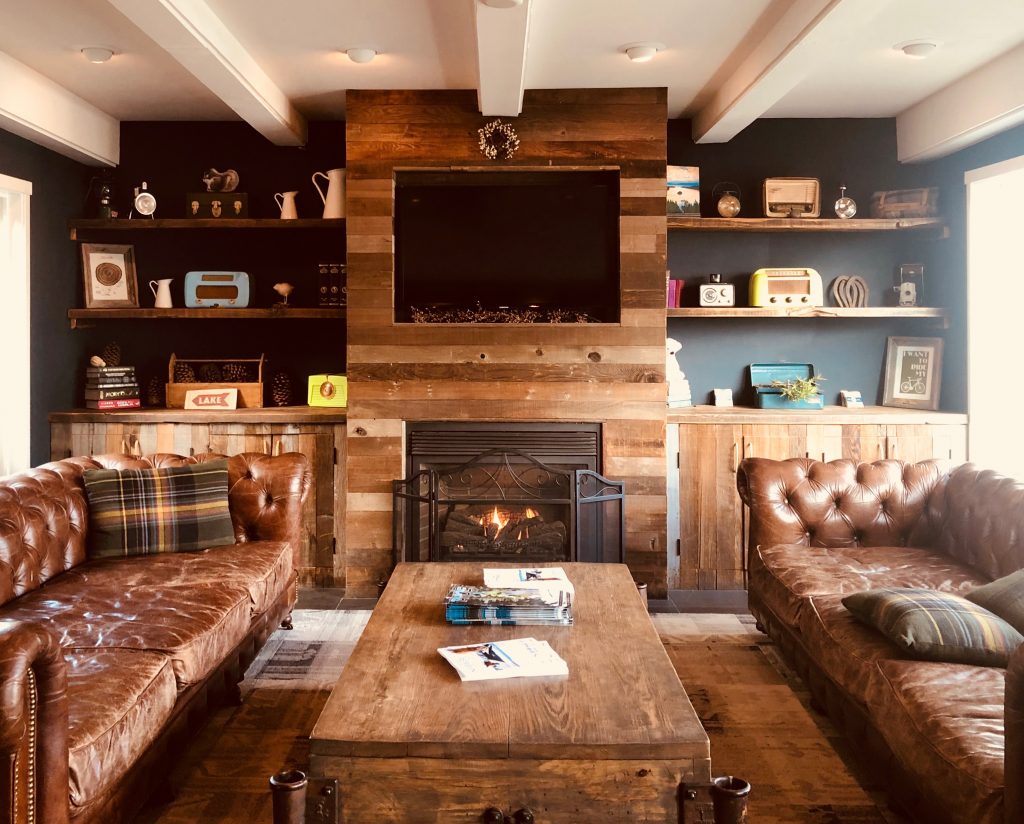 Our South Lake Tahoe adventure is of the early-to-bed, early-to-rise varietal. A stunning drive into Lake Tahoe takes us visually through the seasons as we go from flip-flops to fall foliage and land in a winter wonderland.  We check into our family-friendly hotel, Basecamp South Lake Tahoe. With a hipster sleep-away camp vibe, it's the perfect home base for our South Lake Tahoe adventure. Yippee. Check out our Basecamp hotel review (which *may* involve a jumping on the bed video).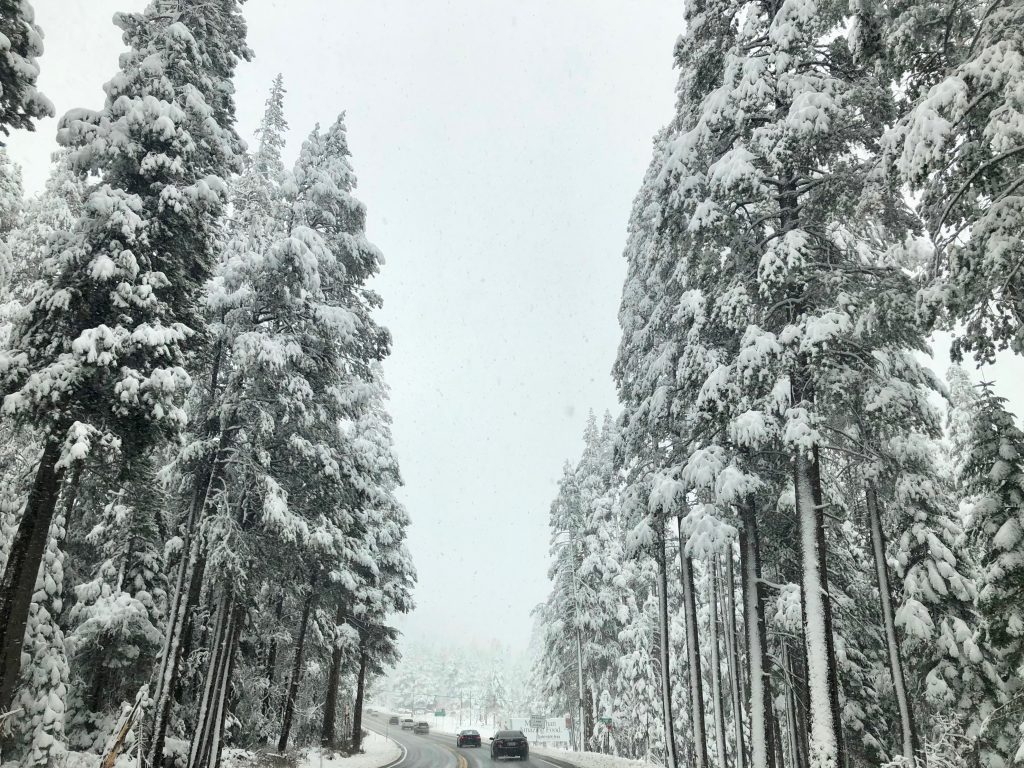 Dinner // Heavenly Village + Base Camp Pizza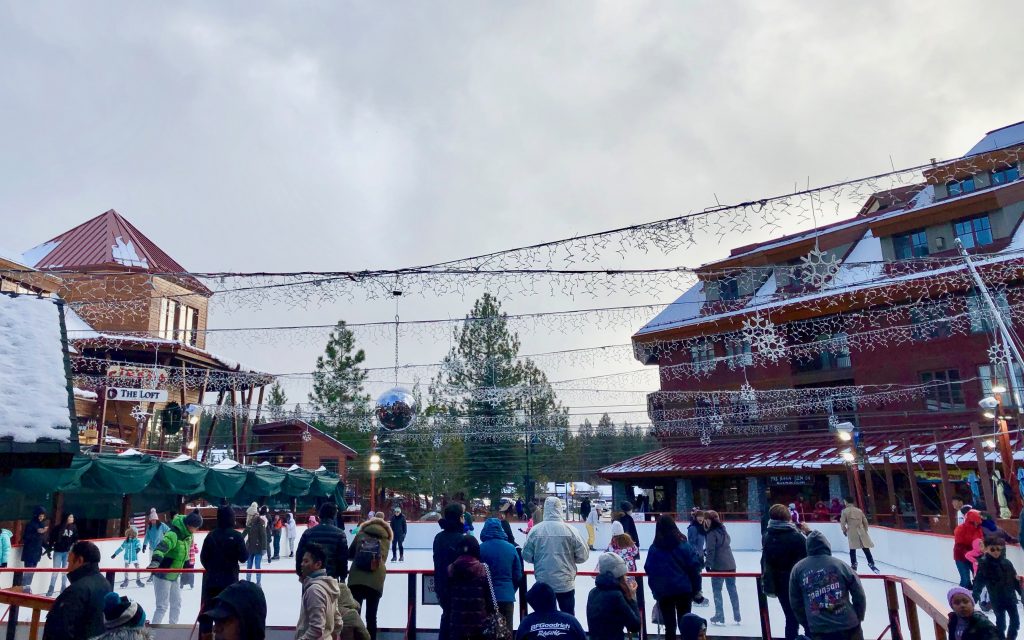 We cozy up with hats and mittens and take the 10 minute walk into Heavenly Village. An ice-skating rink, the Heavenly gondola and shops like North Face and Patagonia make up the village center. Base Camp Pizza (ironically unrelated to the Basecamp Hotel) is our dinner destination and you can smell it before you see it. The scent of fresh-made pizza dough waffling through the air and live music on the covered patio, it's no wonder this place is local favorite. Mediterranean pizza for the adults and a personal pepperoni for the little one and it's as good as it smells.
PM // Nightcap around the fire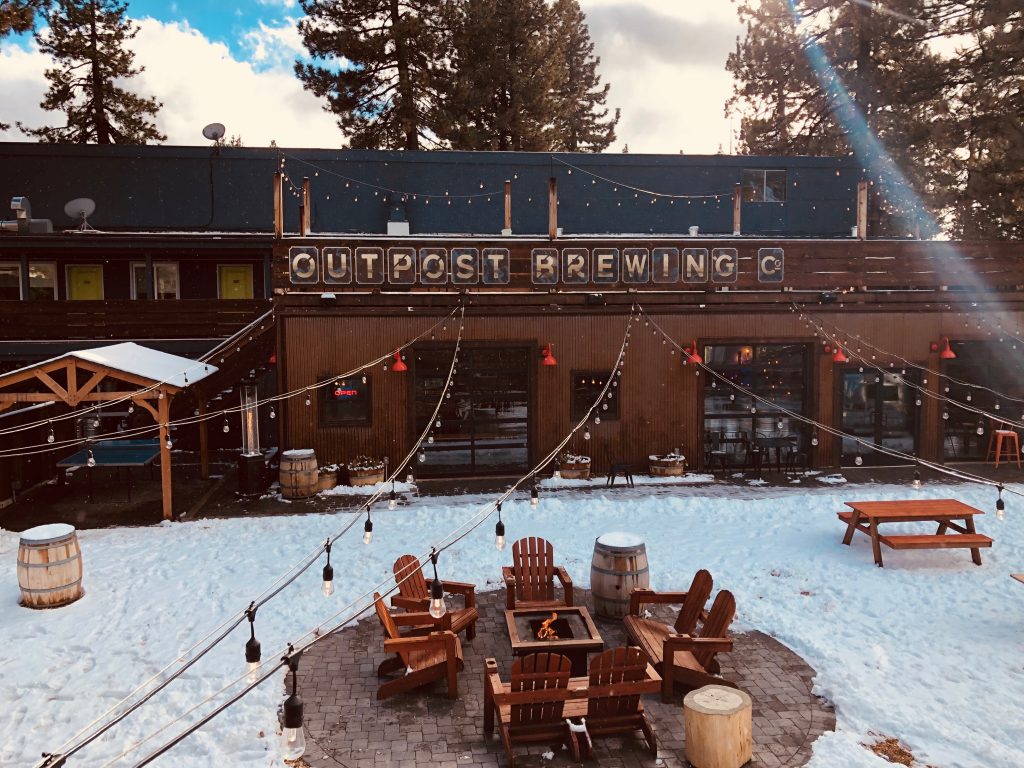 A night cap back at the Basecamp Hotel means s'mores by the fire or complimentary hot cocoa bar with all the fixings. Adults can grab a cold brew inside the Basecamp Beer Garden. If rain or winds thwart plans to cozy round the fire, head inside to enjoy free live music.
Rise 'n shine
Morning // Fuel up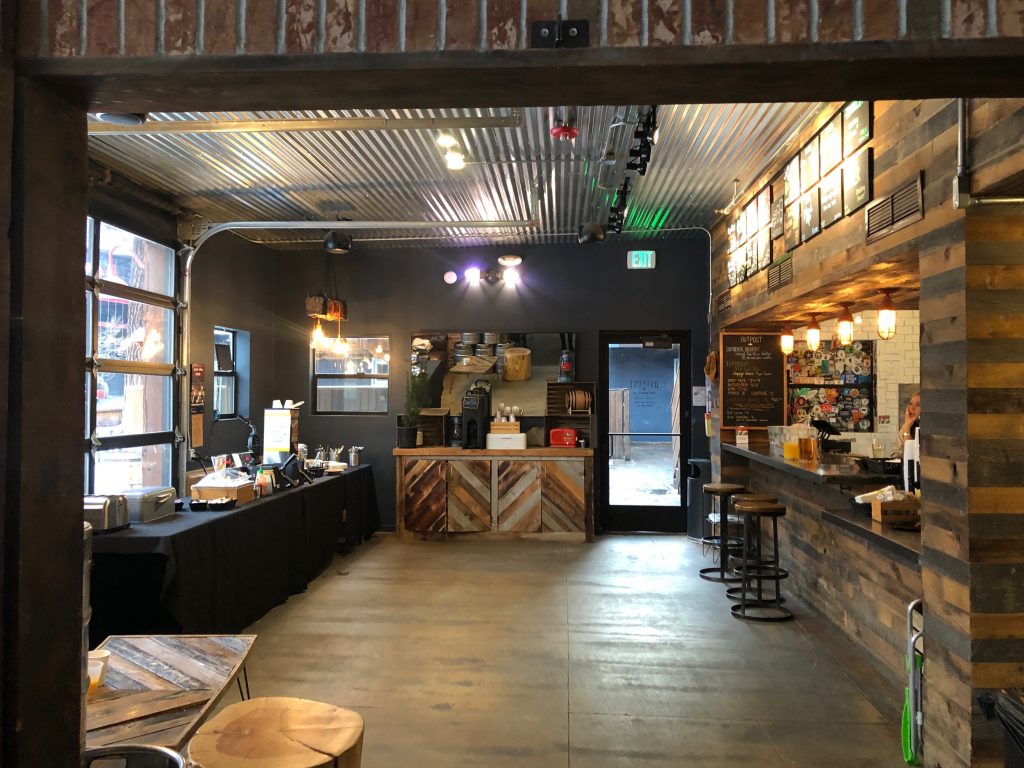 Before adventuring, partake in the hotel's complimentary breakfast which includes a waffle maker, hard-boiled eggs, toast, and oatmeal. What to do in Lake Tahoe depends a lot on the weather. During our visit the covering of new snow melted taking skiing out of the question, but we're treated to a sunny day perfect for a hike.
10am // Hike Van Sickle trail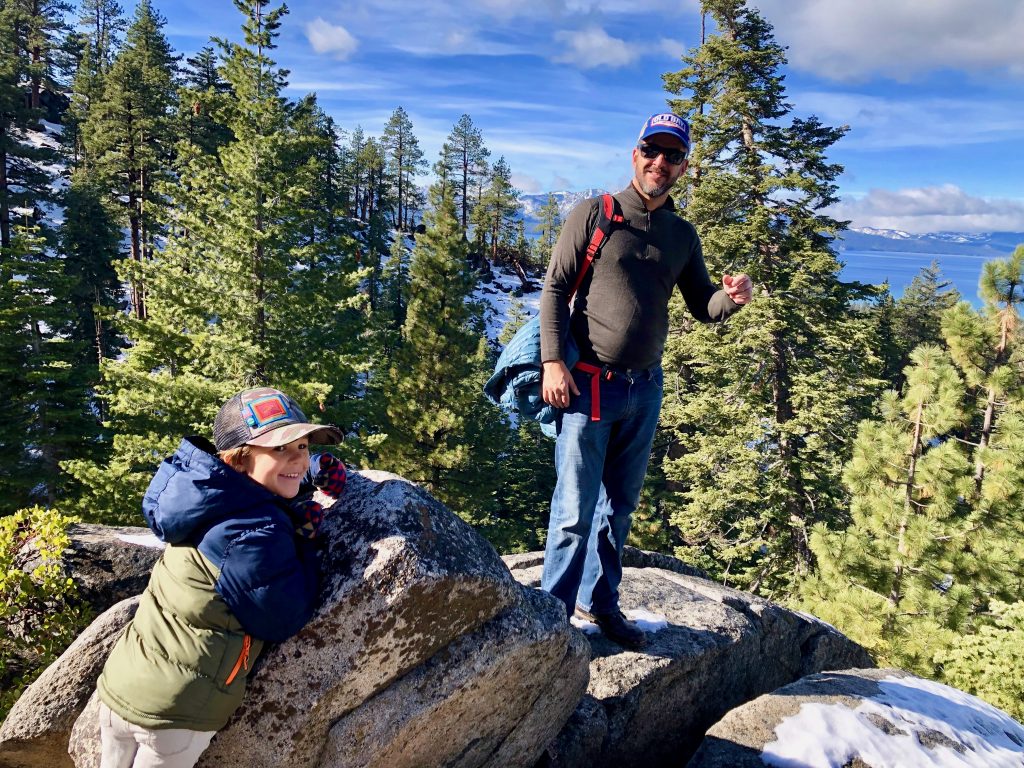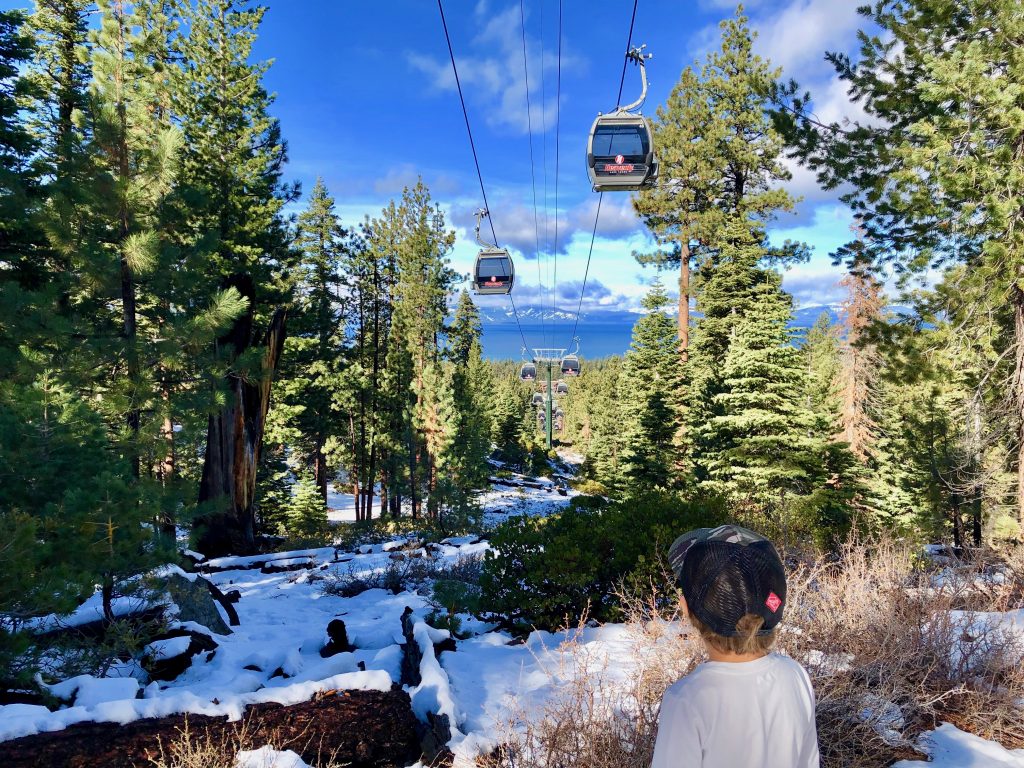 With a scattering of snow still on the ground, we don our snow boots and set out for the Van Sickle trailhead, located just behind the Heavenly Village. During the summer you can park at the trailhead, but it's closed during the winter. Parking at the Heavenly Village can be expensive, so we stay parked at the hotel and begin our hike on foot (don't forget the water and sunscreen!). The trailhead entrance is marked with a big sign on the corners of Heavenly Village Way and Lake Parkway. As we head toward it, we cut through the Harrah's parking lot and see a nicely groomed, yet unmarked, trail entrance 5 minutes before our known trailhead. I voice my concerns about the unmarked trail and then my six year-old reminds me…
We're on an adventure, Mom. It doesn't matter which way we go!
Wise advice. We take the yet unknown trail and hike underneath the Heavenly gondola and climb big rocks with stunning views of Lake Tahoe. It's a picture perfect and family-friendly hike. The unknown trail turns out to be the Barn trail which connects with the Cal-Nevada loop and eventually the Van Sickle trail. On a fellow hikers advice, we take an extra climb to the Van Sickle waterfall. We soak in the gorgeous views and enjoy much-needed unplugged family time.
Lunch // Apre-hike in the Heavenly Village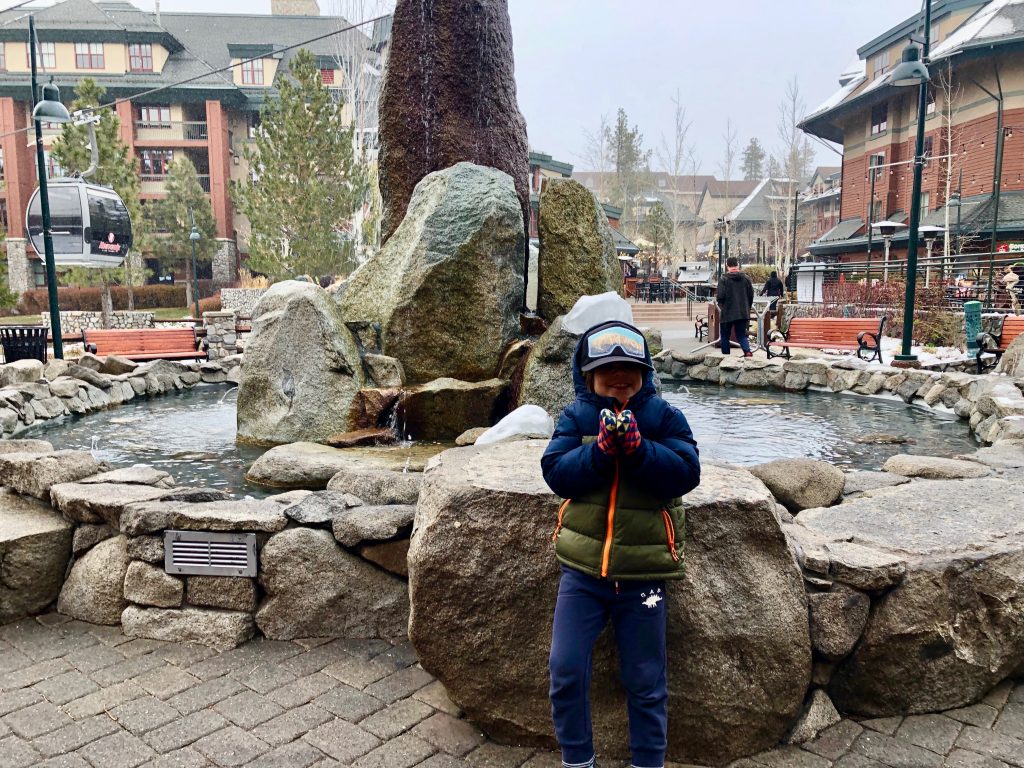 We hike down the mountainside and are back in Heavenly Village. With many stops for snacks and snowballs, the hike takes about 3 hours and was fairly easy for our six year-old. California Burger Co. has live music playing and a lively apre-hike scene for lunch and a beer.
PM // Bon Voyage
We check-out of Basecamp, but not before a game of cornhole. We look forward to returning with our skis and checking out Basecamp Hotel's 'Great Indoors' room with indoor tent and picnic table in the room!
But for now it's time to explore a different side of Lake Tahoe – the North!
Bon Voyage!